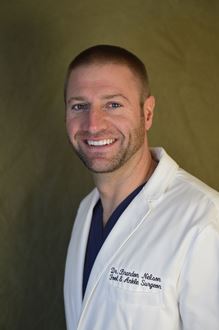 Issaquah Foot & Ankle Specialists
450 N.W. Gilman Blvd. Suite 303 Issaquah WA 98027-2483

425-391-8666
Dr. Brandon Nelson was born and raised in the Northwest and attended school in Edmonds before graduating from the University of Washington. He received his Doctor of Podiatric Medicine at Des Moines University and completed his three year residency training at Tacoma General Hospital in functional reconstruction of the foot and ankle. He lives in the local area with his wife and two children. When not practicing medicine, Dr. Nelson enjoys traveling with his family, fishing and snowboarding.
Awards
Seattle Met Magazine, Top Doc, 2011 and 2014
Education
Des Moines University, Des Moines, IA University of Washington, Seattle, WA
Bachelor of Science in Biology and minor in Fisheries
Doctor of Podiatric Medicine
Residency
Certifications
Reconstruction of the Foot and Ankle
Advanced Cardiac Life Support, American Heart
Basic Life Support, American Heart AssociationAssociation
Professional Memberships
American College of Foot & Ankle Surgeons
American Podiatric Medical Association
Washington State Podiatric Medical Association
Hospital Staff Privileges
Foot Surgical Center of Issaquah - Medical Center of Issaquah
Overlake Hospital Bellevue, WA
Issaquah Surgery Center Issaquah, WA
Publications
"External Fixation of Lis Franc Fracture/Dislocations", Washington State Podiatric Medical Association Annual Meeting, 2008, Spokane, WA.
"External Fixation of Intra-articular Calcaneal Fractures", Amercian College of Foot and Ankle Surgeons Annual Meeting, 2008, Long Beach, CA.
"2'-Hydroxycinnamaldehyde Exhibits Potential as an Anticancer Chemotherapeutic Agent", Experimental Biology (FASEB), San Diego, CA.
April 2005; The FASEB Journal 2005;19(4):A552. "Developing an Assay to Identify Potential Chemotherapeutic Efficacy in Original Compounds", Research Symposium, 2004, Des Moines University
"Is H.R. 5 the Answer?", The Innominate, Vol. IX, Issue 1, Oct. 2003:2, Des Moines University